The lack of nursing staff is a recurrent problem in many countries, and Belgium and France are no exception.
In Belgium, the shortage is particularly noticeable in the province of Luxembourg, where many Belgian nurses leave to work in the Grand Duchy. This situation is exacerbated not only by the differences in remuneration between the two countries, but also because of the better working conditions for nursing staff.
Faced with this crisis, political authorities tend to focus on training new nurses to fill the gaps. However, the solution cannot be found only in the training of new professionals. Indeed, improving working conditions to encourage the retention of existing staff is also a priority.
The work of nurses is difficult and demanding, especially during the Covid-19 pandemic when they showed extraordinary courage. Healthcare professionals face heavy workloads and constant pressure, which can lead to them leaving their jobs earlier than expected. It is therefore essential to improve working conditions, especially for the most experienced nurses, to encourage them to stay in the profession and not leave to work in other institutions.
Health care facilities must also provide optimal framework conditions for their staff. This means providing a safe and healthy working environment, as well as enabling the professional development of their staff. In addition, it is important to refocus health care on people, making the well-being of patients and caregivers a top priority, as it is spending time with patients that nurses value most.
In the Belgian province of Luxembourg, the intermunicipal company Vivalia has set up a "wellness plan" to allow nurses to concentrate on their care work and to offer logistical and administrative support. A communication campaign has also been launched to improve the image of the nursing profession among the general public. These initiatives are important, but they alone cannot remedy the nursing shortage.
In France, the situation is no less worrying.
Many French nurses are also leaving their jobs to work in other European countries, where working conditions and salaries are often more attractive. To stop this hemorrhage, measures similar to those implemented in Belgium must be considered, in particular to improve working conditions and to upgrade the nursing profession.
In the end, the nursing shortage in Belgium and France can only be solved by a global approach, which takes into account the working conditions, the remuneration and the quality of life at work of nurses. The political authorities must show vision and implement effective measures to stop the exodus of nurses and guarantee the continuity of health care.
How can we improve daily life and help caregivers?
In addition to objectively measuring the workload of nurses, Careboard also helps improve the quality of life at work. Indeed, by having an accurate view of the workload, managers and teams can better organize themselves and better distribute tasks. This allows nurses to work in more serene conditions, with less stress and less fatigue, and can help prevent early departure from the profession and improve the quality of care.
In addition, thanks to our qualitative evaluation system of the care load via smileys, teams can give their feelings on their workload and their job satisfaction. This allows hospital managers to quickly identify teams that need support and implement measures to help them and improve their daily lives.
Finally, by optimizing resource management and facilitating communication between the various hospital players, Careboard can help refocus healthcare on people. Indeed, by avoiding work overloads, nurses can devote more time to their patients and offer them quality care.
The exodus of nurses is a major public health issue in Belgium and France, and it is important to implement concrete solutions to remedy it. By offering an accurate measurement of workload in order to improve the quality of life at work, Careboard can help retain nurses in their profession and thus contribute to improving the quality of care for all.
The Interneo solution could also contribute to alleviate the exodus of nurses in Belgium and France. Indeed, the platform facilitates the collaboration between schools and care institutions by bringing together all the actors of the internship within a single platform. This allows training institutions to follow the progress of students in internship, but also to maximize their capacity of reception and to improve the accompaniment of interns who are of great help to them.
In addition, with Interneo, hospitals and clinics can build stronger relationships with nursing schools, as they are both able to allocate their trainee needs. Healthcare facilities can also identify the most promising profiles and recruit them right out of training, giving them access to skilled professionals who have already been evaluated by the field.
In summary, the Interneo platform better connects schools and care institutions, making it easier to recruit new skilled professionals. It also allows to maximize the capacity of care institutions and to better manage trainees. Finally, it provides an effective means of communication and collaboration between the various actors in training and care, which allows for continuous improvement in the quality of training and the retention of future caregivers.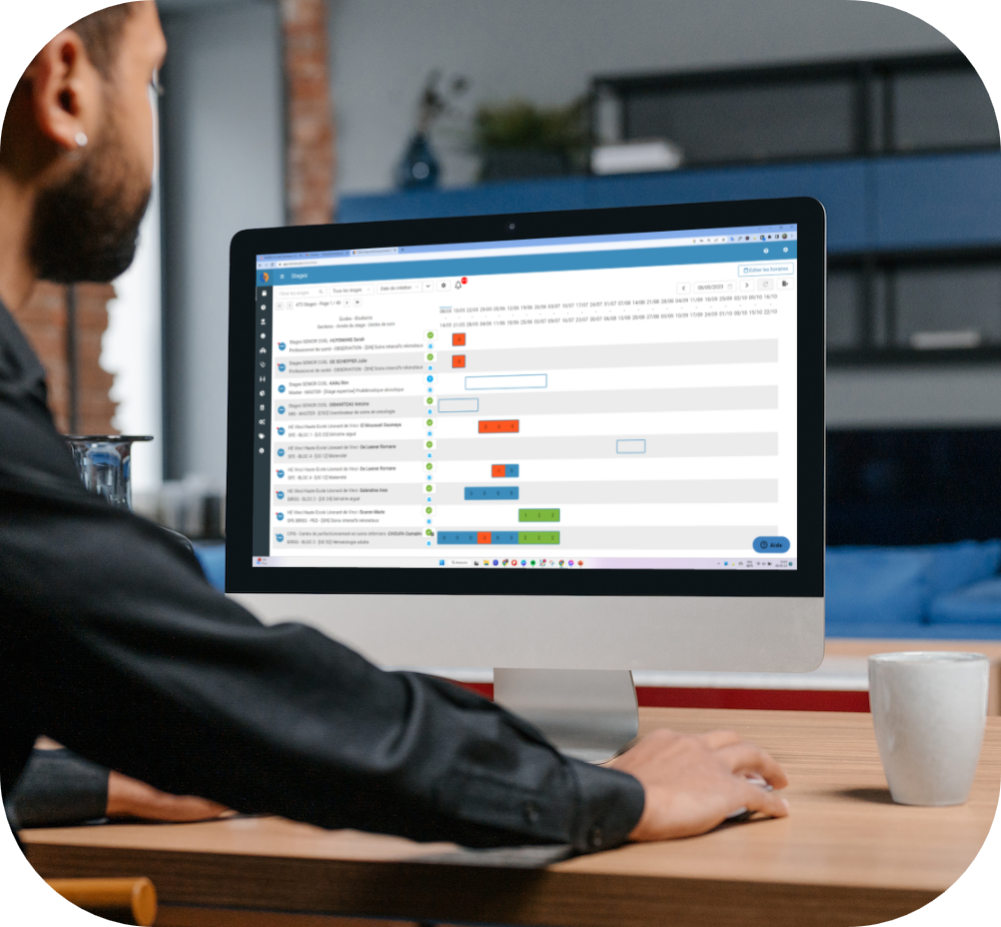 In summary, the nursing shortage is a major issue that requires long-term solutions. In addition to training new professionals, it is imperative to improve working conditions to retain nurses and prevent them from leaving for other countries or other sectors. Health care facilities must create a supportive work environment, provide opportunities for professional development, and consider the well-being of patients and caregivers. By taking a comprehensive approach and investing in nurses, we can ensure quality care and better patient outcomes.